Myofascial Mobilization Workshop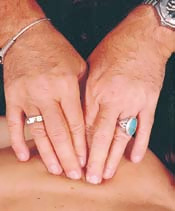 This fascinating introductory, hands-on workshop will introduce the theory of Myofascial Release and the hands-on sessions will primarily focus on the upper and lower extremities, cervical, thoracic and lumbar areas.
Learn valuable myofascial soft tissue mobilization techniques for the whole body that will produce immediate therapeutic results for your patients/clients.
Bring new excitement to your work with this introduction to the Myofascial Release Approach for relieving pain and restoring function.
"The Myofascial Mobilization Workshop taught me how to incorporate and utilize techniques immediately with my patients and that everyone can benefit from myofascial mobilization."
As a result of this course, the participant will be able to:
Evaluate and assess soft tissue restrictions.
Discuss appropriate treatment regimens utilizing myofascial mobilization techniques within their individual treatment setting.
Explain the differences between myofascial mobilization techniques and other soft tissue mobilization techniques.
Identify fascial restrictions in the cervical-thoracic and lumbo-pelvic region.
Differentiate soft tissue mobilization, myofascial mobilization and myofascial release.
Apply myofascial mobilization techniques to the upper and lower extremities, to the back area in a lab setting and apply a home exercise program.
Instructors:  Bryan Kuss
Myofascial Mobilization Workshop is taught by the following instructors.
Contact Hours:
  12 Hours
Student / Faculty Ratio:
  15:1
Tuition:  

$450

 US dollars per person or 

$395

 US dollars per person if registered 2 weeks prior to seminar date.
Burnaby, British Columbia
September 8, 9, 2018
Site:
 Delta Hotel
Accommodations:
 Delta Hotel – Reservation number 1-888-236-2427
Phone:
 604-453-0750
Register Now!